Meet our Conference Elder, Louise Billiot
United Houma Nation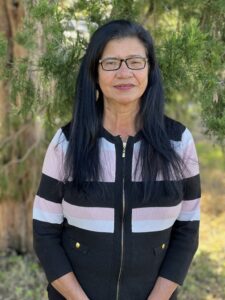 Louise Billiot is a registered member of the United Houma Nation. She was raised in the bayou Native American community of Dulac, Louisiana. She currently resides in city of Houma, Louisiana which was named after the tribe.
Her education began at a small bayou community school designated for tribal members. Prior to 1962 tribal citizens of the United Houma Nation were not allowed to graduate in public schools in Terrebonne and Lafourche Parish. Determined to get an education Louise holds a bachelor's degree from Nicholls State University.
She is currently employed with the tribe as a vocational rehabilitation counselor. She has been employed with her tribe continuously for the last 33 years and plans to retire in 2023. Her work includes assisting tribal members of the United Houma Nation and Chitimacha tribes with disabling conditions to return to or obtain employment.
She is Traditional Woman's Cloth Dancer and traditional Houma palmetto basket weaver. She co-founded and coordinated the Bayou Eagles Native American Dance Group through her volunteer work with the Dulac Community Center of Dulac, Louisiana for over 15 years. She has conducted native presentations at numerous schools, libraries and other community events throughout Louisiana including the New Orleans Jazz and Heritage Festival.
Louse Billiot is honored to be your chosen Elder-in-Residence at this year's Convention.
For questions about the ACPA23 Indigenous efforts or for opportunities to engage with Elder Louise Billiot, contact ACPA23 Indigenous Advisor Tara Nelson ([email protected]).